Fellow SEED Award Winner in the Category of Pollution Prevention, Terranea Resort
Dramatically poised at the edge of the Pacific Ocean, Terranea's 102 acres are infused with the elegance of a classic Mediterranean estate, the casual energy of coastal Southern California, and countless ways to spend your days.
Located just south of Los Angeles, Terranea offers a 582-room resort, including a luxurious collection of residential bungalows, casitas and villas.  The resort features a host of world-class amenities, such as The Links at Terranea, an award-winning 9-hole, par 3 golf course, the spectacular Spa at Terranea, three ocean view pools, family-friendly activities, and a collection of eight distinctive restaurants, bars, cafés and lounges.
Unrivaled in its scenic beauty and romantic allure, Terranea Resort offers an unforgettable wedding reception destination. Whether it's an intimate sunset gathering atop the bluff, or a traditional indoor venue, Terranea provides an exquisite setting. Its rolling lawns and gardens are designed to bring the magic of the ocean into any special event.
For friends and family attending your Southern California wedding, Terranea offers a versatile complement to the Resort's rooms and suites; Bungalows, Casitas and Villas offer spacious, well-appointed homes for those seeking extra flexibility and convenience.
Social: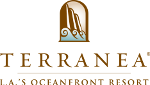 << Previous Post
Next Post >>