Thanks to Dawnya Bartsch and Chris Miller for wonderful the article and photo.
http://www.tbrnews.com/articles/2012/04/21/hermosa_beach_news/news02.txt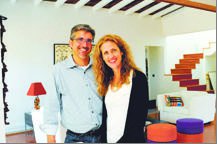 A number of you have asked, so we did want to clarify a few points from the article:
–          instead of radiant floor heating, we used Runtal baseboard heaters.  They are much less expensive and operate more efficiently in our coastal climate.
–          we did not end us using a wind turbine, just SolarWorld solar P.V. panels.  The South Bay has low wind speeds that make it hard to get an adequate return on investment.
–          the green on the building is Vero lime plaster from Merlex – not paint
<< Previous Post
Next Post >>